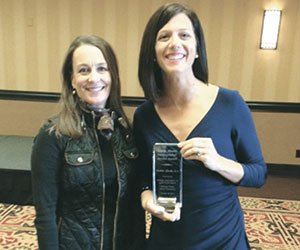 Ottawa County Department of Public Health sexuality educator Heather Alberda received the Roy R. Manty Distinguished Service Award for helping to empower youth to make healthy sexual choices. She has built trust and mutual respect with youth and collaborates with several community partners, parents, schools, churches and human service organizations. The award honors the name and memory of Roy Manty, chief of the division of local health administration, Michigan Department of Community Health.
ARTS
Grand Rapids Art Museum will feature works from 11 ArtPrize 2014 artists in the exhibition GRAM Selects ArtPrize 2014: Encore. The works will rotate with the museum's permanent collection through ArtPrize 2015.
BANKING
Lake Michigan Credit Union has hired Amanda Hesselsweet, personal lines insurance sales representative, for its Lake Michigan Insurance Agency division.
Lori Westgate has joined Independent Bank as an inside lender and is working from the bank's Rockford branch. Dave Samra is a senior residential loan officer and condominium specialist, working from the bank's East Beltline office.
Northpointe Bank announced it has moved Stacy Miller-Kuiper, loan officer, from the inside sales team to the retail team in Grand Rapids.
BUSINESS SERVICES
The Alliance for Economic Success in Manistee has appointed four members to its board of directors: James Barker, West Shore Medical Center; Kelly Smith, Baker College Cadillac; Eric Gustad, Consumers Energy Co.; Manistee Manufacturers Council will rotate its board representation among Jim Reithel, Martin Marietta Magnesia Specialties; Steve Paine, Fab-Lite Inc.; and Jacob Bialik, Morton Salt Co.
CONSTRUCTION
Owen-Ames-Kimball Co. announced Josh Szymanski, business development director, and Brad McAvoy, director of engineering services, were elected to serve as board members for the Michigan Society of Professional Engineers as president of the West Michigan Chapter and president of the construction practice division for MSPE at the state level, respectively.
EDUCATION
Grand Valley State University President Thomas J. Haas received an honorary doctor of science degree from Kingston University in London, acknowledging the 25-year partnership between GVSU and Kingston.
The Michigan State University College of Human Medicine announced the creation of the Division of Rehabilitation Medicine. John F. Butzer, M.D., director of the Center for Research & Innovation at Mary Free Bed Rehabilitation Hospital, will head the new division. 
ENERGY
5 Lakes Energy LLC in Lansing announced Grand Rapids resident Jamie Scripps has been promoted from senior consultant to principal. The company specializes in providing strategic pathways that enable and accelerate adoption of clean energy technologies and sustainable practices.
FINANCIAL SERVICES
Edward Jones financial advisor Rebecca Renner Anderson attended, for the second consecutive year, Barron's Winner's Circle Top Women Advisors Summit, which represents the nation's top women financial advisors and industry decision-makers.
FOOD & BEVERAGE
Mamaleelu Cold Brew LLC in Kalamazoo won first place in Westborn Market's The Next SKU Could Be You product placement competition at the sixth annual Making It in Michigan trade show, held in Lansing.
HEALTH
Family Tree Therapies has relocated to 2251 East Paris Ave. SE. The new, 9,000-square-foot facility will provide customized space for up to 20 therapists, providing additional flexibility to work with children with diagnoses such as Down syndrome, autism and sensory disorders.
Orthopedic surgeon James Kosiur has joined the staff of Allegan Orthopedic & Sports Medicine Center. 
INSURANCE
Carrie Farnum has joined HNI as a benefit advisor. She is responsible for helping clients discover out-of-the-box benefit solutions to their problems.
LEGAL
Barnes & Thornburg LLP has elected three attorneys as partners in the firm's Grand Rapids office, effective Jan. 1. New partners and their practice areas: Erik R. Daly, corporate; Tammy L. Helminski, environmental; and Kenneth W. Vermeulen, real estate and environmental.
Gielow Groom Terpstra & McEvoy of Norton Shores announced the addition of litigator Jake W. Lombardo.
Smith Haughey Rice & Roegge announced the return of paralegal Cathy Greer.
LEISURE & RECREATION
The City of Walker and West Michigan Trails and Greenways Coalition announced a fundraising kick-off to build a pedestrian tunnel to connect the Fred Meijer Standale Trail under Lake Michigan Drive. Walker was given a conditional commitment from MDOT of $1.2 million. For it to be funded, Walker must raise approximately $700,000- $900,000 toward the project.
YMCA of Greater Grand Rapids announced Bill Hinton is the new executive director of YMCA Camp Manitou-Lin in Middleville.
MILITARY
The Gerald R. Ford International Airport and the Patriot Guard Riders of West Michigan collaborated on Operation Handshake, a Nov. 26 event that welcomed home returning military members and veterans to thank them for their service.
NONPROFITS
Authors Deb Moore and Betty Epperly teamed up to write "Ripple Effects: Ten West Michigan Nonprofits Serve, Inspire, Transform," about 50 people whose lives have been changed by Grand Rapids nonprofits. The book is available at Schuler Books & Music and at Amazon.com.
Open Doors Center for Self-Directed Teens, 1324 Lake Drive SE, announced the additions of Madison Werley, outreach director, and member of the board of directors Amy Carpenter Leugs.
PUBLIC SERVICE
Steve Guitar has joined the City of Grand Rapids as communications director.
PUBLISHING
Jon Pott, vice president and editor in chief of Wm. B. Eerdmans Publishing Co., announced he will retire June 30, 2015. Pott joined the publishing house as an editor in 1968. He later served as executive editor for several years before being appointed to editor in chief in 1982.
SERVICES
Engineered Protection Systems has appointed Steve Foster enterprise sales manager. He will lead enterprise sales initiatives, serving commercial health care, educational and financial industries and others.
Shaggy Pines Dog Park in Cascade was featured in The Huffington Post as one of the best dog parks in the country. The park features 20 acres of fenced-in grounds, a clubhouse and self-serve dog wash tubs.
Timothy J. Johnson and Janis Norman Johnson have joined Wade Trim's Municipal Services Group where they will lead efforts to provide enhanced planning services to West Michigan communities. They are former co-owners and founders of MainStreet Planning Co.