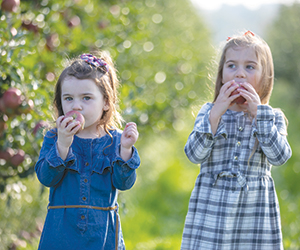 There are more than 11.3 million apple trees in commercial production that cover 35,500 acres on 825 family-run farms, according to the Michigan Apple Committee. Courtesy Rudy Malmquist
According to the Michigan Apple Committee (MAC), Michigan is the third largest apple producer in the United States.
Yet, apple season in West Michigan is more than just selling, processing and shipping apples to states, countries, retailers, farmers markets and cider mills.
It is also a time when agritourism sees tourists visit the Fruit Ridge region in West Michigan, which includes Kent, Ottawa and Muskegon counties.
According to the MAC, West Michigan is where 75% of apples are grown and some apple growers have turned their U-pick farms, such as Robinette's Apple Haus & Winery and Fruit Ridge Hayrides, into tourism spots, where visitors can enjoy the activities, food and drinks.
MAC said apples are the largest and most valuable fruit crop in the state, making apple season one of the main economic drivers in the agricultural commercial market. There are more than 11.3 million apple trees in commercial production that cover 35,500 acres on 825 family-run farms. The average apple harvest is about 25.2 million bushels or 1.058 billion pounds per year.
Applewood Fresh Growers LLC in Sparta has contributed to the apple production as the company represents 35 growers in the state.
Nick Mascari, Applewood president, said it shipped 1.9 million bushels of apples last year to retailers in the Midwest, south, southwest and southeast parts of the country, and he expects to see a 10% increase in apples shipped this year.
"We have new orchards coming online, new plantings of apples, which will produce more apples," he said. "We have pushed out a lot of our old orchards and turned those into high-density apple orchards, so they produce more fruit per acre."
Robinette's Apple Haus & Winery in Grand Rapids is open year-round with its bakery and winery business, where lunches, wine, doughnuts, fudge, caramel corn, kettle corn, apple bread and pies, among other things, are served.
During the fall apple season, owner Ed Robinette said thousands of people from in and outside of Michigan visit his 120-acre fruit farm that grows peaches, sweet cherries, nectarines, apricots and over 40 varieties of common and uncommon apples such as Honeycrisp, Cortland, Zestar, Mutsu, Northern Spy and others, including those used to make hard cider.
Robinette said the orchard grows about 10,000 bushels of apples per year, but the farm is more than just growing fruits and making cider. During the season, there are multiple activities guests can enjoy, such as horse-drawn hayrides on the weekends, a corn maze, a jumping pillow and school tours.
"We are on a farm and most people have no connection with farms anymore," Robinette said. "Fifty, 60 years ago, maybe their grandparents lived on a farm, but not anymore. People are eager for that farm experience. They don't know what it is, but they want to experience it, they want to get out and see where apples come from or peaches and cherries. They are eager for that fun and simple entertainment of going to the farm and experience something their grandparents did."
Nancy Briggs, owner of Fruit Ridge Hayrides in Kent City, said the farm also offers a variety of activities to visitors during apple season. They include horse-drawn hayrides, an interactive corn maze that has word searches, and a GPS game that allows visitors to play on their smartphones to help find their way through the maze. 
Briggs said there also is a 7-acre corn maze that has children's games, as well as pony rides, a pig train and little fire engine rides in a small playground area for kids, and a petting zoo and straw piles for kids to jump in. 
Along with the activities, pumpkins and over 15 varieties of apples such as Fuji, Snow Sweet, Honeycrisp and Northern Spy are grown on small dwarf trees on her 100-acre farm for U-pick visitors.
She said thousands of people from around the region visit Fruit Ridge Hayrides each season, either to just pick their apples or enjoy the entirety of what the business has to offer.
"We have some people from the east side of Michigan, Chicago and Indiana who visit the farm," Briggs said. "Sometimes we just get random travelers who are traveling through Michigan and who look up places to stop to go on a color tour and they look us up and stop here."
Although it is weather dependent, Briggs said the month of October is the busiest time of the season for her business.
"I think people want to get their pumpkins before Halloween," she said. "The last weekend of September and the first two weeks of October, we get a lot of people buying corn shocks, straw bales and all those fall decorative things, and in the middle weeks of October, it is just wheelbarrow after wheelbarrow full of pumpkins."