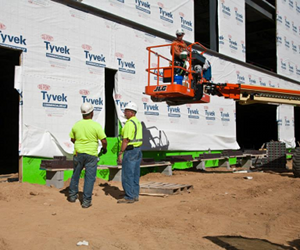 Elzinga & Volkers workers build the Spectrum Health Beltline Integrated Care Center. Photo via fb.com
The safest contractors in West Michigan were revealed this week.
During an event at Watermark Country Club, the Associated Builders and Contractors Western Michigan Chapter, or ABC/WMC, recognized 35 members with ABC Safety Training and Evaluation Process, or STEP, awards.
There are four STEP Award designations based on a variety of qualifications: diamond, platinum, gold and silver.
Seven companies earned the diamond-level STEP Award, which is the highest-level designation: Brigade Fire Protection, CD Barnes Construction, CSM Group, Elzinga & Volkers, Esper Electric, GHD and Thermal Tec.
Eight companies earned the platinum STEP Award, 10 companies earned the gold STEP Award and 10 companies earned the silver STEP Award.
"STEP is a process, not an event," said Norm Brady, president and CEO, ABC/WMC. "Statistics show that members who use STEP have significantly better safety results than those who do not participate."
STEP Award winners
A.J. Veneklasen
Allied Electric
Allied Mechanical Services
Architectural Metals
Brigade Fire Protection
Buist Electric
Buist Sheet Metal Co.
Burgess Concrete Construction
CD Barnes Construction
Central Ceiling West
CSM Group
Dan Vos Construction Co.
Elzinga & Volkers
Erhardt Construction Co.
Esper Electric
Feyen Zelstra
GHD
Kent Companies
Lakewood Construction
Langerak Roof Systems
Moyle Construction
Northwest Kent Mechanical Co.
Nugent Builders
Owen-Ames-Kimball Co.
Parkway Electric & Communications
Pioneer Construction
Pylman Power
Quality Air Heating & Cooling
Rockford Construction Co.
Sobie Co.
Ter Horst & Rinzema Construction Co.
Thermal-Tec/Michigan
Triangle Associates
Vos Glass
Welch Tile & Marble Co.
Windemuller Electric
Wolverine Building Group
Zeeland Lumber & Supply