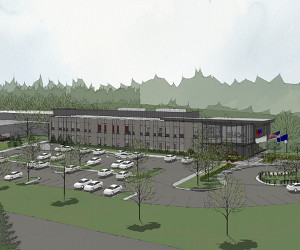 Courtesy ADAC Automotive
A local tier-one automotive supplier is breaking ground today on a new $20-million headquarters.
ADAC Automotive said today it is constructing two buildings totaling more than 90,000 square feet on an eight-acre parcel it already owns in Cascade Township, at 5716 Eagle Dr. SE.
Its current headquarters is in Cascade Township, at 5920 Tahoe Dr. SE.
Construction of the new campus is expected to be completed in June 2019.
Jim Teets, ADAC president and CEO, said the campus is "an investment in our workforce."
"We are designing the space to further encourage communication and team collaboration, which will be key in attracting and retaining employees — especially as we continue to grow our electronic capabilities," Teets said.
"We at ADAC are committed to West Michigan. Our investments in physical and human capital reflect that. As the global automotive market and mobility industry evolve, we will maintain our position as leaders."
Consolidating operations and jobs
The corporate campus will house 175 current ADAC associates and consolidate operations that are currently taking place across four locations: 5920 Tahoe Dr. SE, 5670 Eagle Dr. SE and 5716 Eagle Dr. SE in Cascade Township; and 3801 36th St. SE in Kentwood.
The company will vacate the Tahoe Drive and 36th St. facilities, and it is using the Eagle Drive properties to create the new campus.
All existing employees will be retained, and the new campus will make room for 50 additional high-tech positions in the next three years — primarily engineering, technical and information systems roles.
Campus amenities
The campus will feature a 56,000-square-foot office building to house administrative and engineering personnel and a 24,000-square-foot expansion to a current building to house a product development, validation and laboratory testing facility — also called the Innovation Center.
There will be a fitness center, employee work café, wellness/lactation rooms, walking paths in a natural park-like setting and "modern, collaborative workspaces."
Firms on the project
Grand Rapids-based Integrated Architecture is the architect on the project.
Grand Rapids-based Rockford Construction is the project's contractor.
Hudsonville-based Journey Construction Group is the owner's representative coordinating between the contractor and the architect.
Grand Rapids-based Custer is the interior furnishings designer.
Cincinnati-based Fifth Third Bank provided financing for the project.
Incentives
Cascade Township provided a tax abatement for the project.
The Right Place, West Michigan's economic development agency, worked in collaboration with ADAC and the Michigan Economic Development Corporation to ensure ADAC chose to expand in West Michigan versus another state.
The Right Place is also connecting ADAC to workforce development resources at West Michigan Works! to assist with worker training.
ADAC Automotive
Founded in 1975, ADAC Automotive is a family owned tier-one automotive supplier that manufactures exterior and interior door handles with integrated electronics, exterior trim and exterior mirrors for the global automotive market.
ADAC employs 1,200 people in nine facilities throughout Michigan and has a presence in Europe, Asia, India and Brazil via various strategic partnerships.