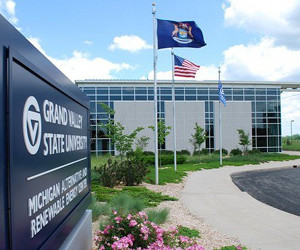 MAREC is an economic development initiative by the city of Muskegon in partnership with GVSU and the Michigan Economic Development Corp. Photo via fb.com
A business incubator in the region is opening its doors to the community this week.
Grand Valley State University's Michigan Alternative and Renewable Energy Center in Muskegon, or MAREC, is hosting its first-annual open house on Thursday from 5-7 p.m., at 200 Viridian Dr.
There will be light refreshments and live music at the open house.
The event is free and open to the public.
Open house
MAREC's open house will feature tours of the facility, presentations about what the business incubator has planned for the year and a chance to learn about the entrepreneurial business tenants in the facility.
Kevin Ricco, director at MAREC, said there are a lot of interesting and exciting things happening at MAREC.
"We want to share these with the community," Ricco said. "People see this building while they are driving through Muskegon every day and some of them have no idea what we do. We want to change that."
The incubator
MAREC is a business incubator supporting the commercialization of clean energy and technology innovation developed by early stage companies.
The center provides a number of services for entrepreneurs: product test planning; customer needs assessment; individualized business consulting; assistance with patent protection; funding opportunities; and training workshops.
The nearly 25,000-square-foot facility is located on Muskegon Lake in one of the original eleven designated SmartZones.
MAREC opened in 2003, due to the collaborative work of a number of local, regional and state entities.
A number of organizations are involved in the cooperative effort at MAREC: GVSU; city of Muskegon; Michigan Economic Development Corp.; Muskegon Chamber of Commerce; Michigan Public Service Commission; Muskegon Area First; Muskegon Community College; and Community Foundation for Muskegon County.