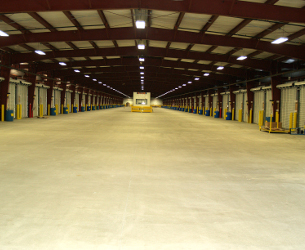 The logisitcs firm Holland built an $11 million facility in Wayland. Courtesy First Companies
A new trucking terminal is operating on 22 acres of land south of Grand Rapids.
Completion of the $11 million, 55,000-square-foot terminal was announced Aug. 18 by logistics firm Holland and First Companies. The facility is at 10151 Division Ave. SW in Wayland.
"The team at First Companies was excited to find the new location and have the opportunity to manage construction of the new terminal for Holland," First Companies President Jeff Baker said in a release. "Our combined project management experience ensured everything was completed as planned, with no major issues."
With 110 dock doors, a 17,000-square-foot maintenance building and 6,000 square feet of office space, the new facility will increase Holland's capacity by 35 percent.
The company also expects to grow from its current 180 employees by approximately 5 percent each year.
"We went from 72 to 110 truck docks and nearly triple the yard size of what we had in Wyoming," said Adam Rowe, Holland's properties manager. "This location is one of our highest pressure terminals in the system and we had no room for growth. The new facility has now raised the bar for the construction of new terminals going forward."
Since 1929, Holland has provided trucking for central and southeastern United States and eastern Canada. Earlier this year the company was honored with the Expedited Motor Carriers, South/South Central Regional LTL Carriers and Midwest/North Central Regional LTL Motor Carriers awards for performance excellence.