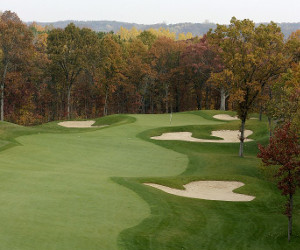 The award-winning Thousand Oaks Golf Club is a part of Watermark Properties. Photo via fb.com
A local golf group has added a fourth golf course.
Watermark Properties has added Thousand Oaks Golf Club to its portfolio, which includes Watermark Country Club, StoneWater Country Club and Sunnybrook Country Club.
Thousand Oaks will integrate operations on Oct. 1. The club also will change from semi-private to private on Jan. 1.
"Thousand Oaks will transition smoothly into the Watermark business model of great private golf facilities, with restaurants to serve both members and the public," said Craig Smith, Watermark Properties chief operating officer. "We believe the result of this partnership, combining four country clubs and the restaurant operations, will result in the best golf club and dining experience for members and patrons in the West Michigan area."
The course is an award-winning 18-hole layout designed by Rees Jones. It's been ranked among the top 25 courses in Michigan.
The Oct. 1 date will allow members at all four courses access to the others.
The merger also will see the Acorn Grille and Event Center at Thousand Oaks absorbed into RedWater Restaurant Group, which also includes Cork Wine and Grille, Vintage Prime and Seafood, Rush Creek Bistro, FireRock Grille, Reds on the River and Gravity Taphouse Grille.
"We have a strong belief in partnership and we take a long-term view," said David Mehney, Thousand Oaks managing partner. "This merger allows us to join with a strong group and build on what our team has created at Thousand Oaks. Together we'll have something nobody else can offer."
Watermark will invest in the facilities, but no staffing changes are planned, Smith said.
"Watermark Properties and Thousand Oaks Golf Club remain committed to continuous improvement in all four operations, while providing more opportunities for our members to receive greater value from their membership," Smith said.