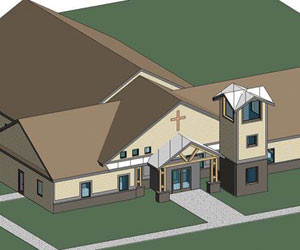 Spirit of Life Lutheran Church in Caledonia is Dan Vos Construction's newest project. Courtesy Dan Vos Construction
Dan Vos Construction in Ada announced last week it has broken ground on the new 6,280-square-foot Spirit of Life Lutheran Church in Caledonia.
The new facility, which will be located on the southeast corner of Broadmoor Avenue and 76th Street on a four-acre parcel north of Caledonia, was designed for future expansion.
Vos said the church will include worship, office and educational classroom spaces for the church's continued ministry in southeast Grand Rapids.
The architect on the project is Brent Folkert.
No estimate of the cost of the new church was provided.
Dan Vos Construction, in business since 1951, has a long track record in church construction in particular, along with food-processing facilities, among other types. Vos completed the new Gordon Food Service corporate headquarters in Wyoming one year ago, with the $40 million, 382,000-square-foot structure designed to accommodate up to 1,360 employees.
According to Vos, it serves more than 100 clients annually and has a 96 percent repeat client rate.
The company also just announced the addition of a new project manager, Adam Hartwell, a Grand Rapids native who has worked in construction management in California for 10 years.