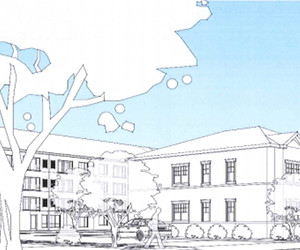 A partial rendering of the 80-unit residential project proposed for 50 College Ave. SE in Grand Rapids' Heritage Hill neighborhood. Courtesy Orion Construction
A local developer is proposing a residential project in Heritage Hill that would span five buildings.
Orion Construction in Grand Rapids has submitted a proposal to the Grand Rapids Historic Preservation Commission for the 80-unit project on a 2.3-acre site, at 50 College Ave. SE.
The development will go in front of the commission on July 6 for review.
The units would be a mix of one- and two-bedroom units in the group of buildings, which would be two to four stories.
The development is in line with a 25-page document created by a public work group for the Heritage Hill Neighborhood Association, but it also requires a re-zoning to medium-density residential.
The plan would retain and repurpose two historic structures on the site, while another large, non-historical building likely would be demolished.
"The neighborhood has been incredibly engaged in discussion around what happens at 50 College and so they should be," said John Wheeler, an Orion Construction spokesperson. "This is a historic neighborhood with class and character, and we see tremendous opportunity with this site.
"It is keystone real estate, and our proposed development fits within the vision of both the city and the neighborhood."