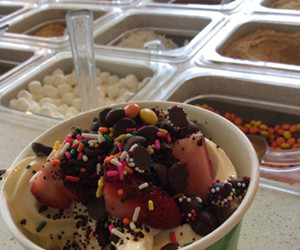 Peachwave Frozen Yogurt sells more than 80 flavors. Photo via fb.com
An international chain of frozen yogurt shops has been bought by a franchisee with a pair of locations in the region.
Froyo deal
Peachwave Frozen Yogurt, the self-serve chain, said yesterday that Boyd Feltman is now the new CEO and co-owner of Holland-based Peachwave LLC.
Terms of the deal were not disclosed.
The franchise was founded in 2009, previously based in Oklahoma and has about 70 locations spread across North America.
Feltman opened a Peachwave in Holland in 2013 that "quickly became a top store in the chain," he said.
He opened a second shop in Wyoming last year.
Feltman's co-owner in the deal is an unnamed franchisee who owns eight Peachwave locations in New York and Connecticut.
"When the opportunity was presented to purchase Peachwave . . . I jumped at the opportunity," Feltman said. "This brand has so much untapped potential and is great for all types of communities."
Feltman has plans to keep growing Peachwave, which currently offers more than 80 frozen yogurt flavors.
He plans to open new markets and keep developing the brand's offerings and supply chain.
Executive to yogurt shop owner
Feltman, former global managing director for GE Corporate Treasury, worked his way into the franchise, after leaving GE to pursue his "dream of owning his own company."
"My family fell in love with Peachwave while living in Connecticut, and I was excited to bring it to Michigan where I grew up," Feltman said.
Feltman added that the Peachwave business model was "so appealing, because it does not take fees and royalties from the operators."
"I felt not having those costs would allow for a more resilient business that could keep profits working in the local economy in various ways," Feltman said.
Feltman said, for example, his shops allocate some of the "saved costs" to donate a percentage of all sales to a local early childhood development organization.