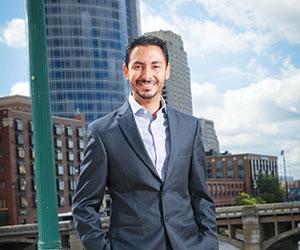 Guillermo Cisneros' background includes accounting, business, human resources, PR and economics, all of which he hopes will help him in his job at the West Michigan Hispanic Chamber of Commerce. Photo by Michael Buck
Via his work in Mexico, Spain and now West Michigan, Guillermo Cisneros has come to understand a key truth: People need help to grow and succeed.
As the new executive director of the West Michigan Hispanic Chamber of Commerce, hired in March, Cisneros is uniting his trio of passions — accounting, business administration and human resources — to help Latino students and businesses tap into often out-of-reach community resources.
"When I moved to Michigan, I realized the Hispanic population was big — almost 25 percent in the Holland area and (15) percent in Grand Rapids," he said. "I realized there were many opportunities with Hispanic businesses around the area, so I joined the chamber back in 2012 and I loved it.
"While I was volunteering, I saw that there … is a need for guidance, and businesses in general need the help of the chamber in order to succeed with what they are doing.
"Not everyone in the U.S. has the same opportunities."
One major hurdle is access to capital, he said.
"We see many businesses with desire to grow, but sometimes if they don't have the resources, it's pretty hard," Cisneros said. "That's one of the roadblocks our community faces."
Cisneros said his lifetime of experience watching, working in and leading businesses in Spanish-speaking places has given him the right set of skills to guide the chamber.
He grew up as one of three children of a lawyer and politician father and a seamstress and small business-owning mother in Campeche, Mexico.
GUILLERMO CISNEROS
Organization: West Michigan Hispanic Chamber of Commerce
Position: Executive director
Age: 39
Birthplace: Campeche, Mexico
Residence: Zeeland
Family: Wife; 3-year-old daughter.
Business/Community Involvement: "My wife and I started a company called EdConnect, which is her baby. The idea is to bring international students from Europe and Latin America to West Michigan and to facilitate interchanges between people from West Michigan and different countries. I've also been co-chair of the Next Gen Board at Wedgwood Christian Services for four years now."
Biggest Career Break: "When I lived in Spain before moving to the United States and got my master's degree there. As soon as I finished the master's program, I got hired by this big media corporation with a presence in more than 22 countries, PRISA Group. I was the liaison between the headquarters and all the business units for the (company) — newspapers, TV, internet, radio. It's one of the largest media companies in Spain, Portugal and Latin America. I was in charge of control and budget reporting and worked in the human resources department."
"My dad always encouraged the three of us (siblings) to follow our dreams. I always had good advice from him," Cisneros said. "When I was young, around 15, I started thinking I would love to go abroad to meet other people, see other countries, to see how things work outside Mexico."
He took baby steps toward leaving the nest, first attending national symposiums in Yucatan and Monterrey, where he learned from executives of international businesses like Cemex, one of the world's largest cement companies, based in Mexico.
He earned a bachelor's degree in public accounting from the Autonomous University of Campeche, Mexico, in 2000, during which he apprenticed at the accounting firm Barredo Diaz and Partners.
"That really made me like the business area," he said.
After graduating from college, Cisneros worked for three years in accounting and human resources for Karim's Group, a multinational real estate and manufacturing corporation founded by a Pakistani businessman in Mexico.
His thirst to see the world stayed with him, so he moved to Spain in 2003, at age 26, to earn a master's degree in economics and international business administration from Autonomous University of Madrid.
He worked his way up the ladder at a Spanish- and Portuguese-language media corporation, PRISA, becoming the senior human resources controller and finding mentors in Carolina Carbonell, his direct supervisor, and Rafael Cabarcos, the company's worldwide HR director.
Cisneros became hooked on the culture, the food and the shared, yet different, language of Spain. But matters of the heart intervened.
"I was in my fifth year in Spain, and I met this beautiful Dutch girl from Grand Rapids, Michigan," he said, grinning. "She was working in Madrid and went there to study her master's degree. We started dating, and she said, 'I love Michigan, and I have my family there.'
"Madrid is like New York, with space being limited. She said, 'I would like to raise kids in Michigan, and Michigan can offer space, a backyard.' She convinced me."
The couple moved to Michigan during the financial crisis in 2009, and Cisneros spent 10 months looking for a job. Meanwhile, he earned a certificate in human resources from Cornell University online in 2010.
From May 2010 to September 2011, he worked as a department supervisor at The Home Depot in Grand Haven. It was like starting from scratch, he said.
"I didn't have any connections in West Michigan and nobody was hiring in HR or finance, which were the fields that I had experience in," he said. "So, after being in Spain and accumulating all of that international experience … I remember a particular time when I found myself with a broom in my hands at the entrance of The Home Depot.
"Going through that was a very humbling experience for me, and it wasn't easy at all. Definitely, all of these experiences shaped me personally and made me the man I am. Being an immigrant is not easy and sometimes requires a double effort to achieve your goals."
After Home Depot, Cisneros worked at State Farm in Wyoming, then Berends Hendricks Stuit in Grandville until early 2017.
When he began volunteering at the Hispanic chamber in 2012, he quickly became an ambassador for the mission of the chamber and the people it represents.
"In 2014, I was invited to become a part of the board of directors, then last year, I was voted to be the vice president," he said. "I was also the events and programming committee chair."
Cisneros used his influence at the chamber to help increase BHS' Hispanic clientele, and he soon saw that he could become a bridge in the business community, too.
He said the chamber has 600 members — 450 businesses and 150 students.
"(We) connect the Latino professionals with the organizations in Grand Rapids, the government, corporations, and small and medium businesses."
Cisneros aims to build on programs established by his predecessors — programs such as the MedioDía workshops in Spanish, a partnership with the city of Grand Rapids that helps Hispanic business owners learn about accounting, insurance and social media.
"We need to be creating and implementing programs that make a real impact in our Hispanic businesses and the community," he said. "We have several events throughout the year. We are doing many things now, but I would like to develop more programs.
"We have many Hispanic businesses, and I would like to see them in a different stage, as far as revenue, growth, customer service and vision."
As in any leadership transition, Cisneros said change can be tricky.
"Sometimes, the fear of new things, to implement new things and to stop doing things we were doing for several years — sometimes that creates friction," he said. "But I think we have a great board of directors, very professional people, and we have been able to work together and keep growing and developing."
Cisneros said one of his passions is to ensure West Michigan students have access to career opportunities after graduating from college.
"Last year, we started the Latino Career Fair," he said. "We put together a fair with local organizations and the biggest employers came: Herman Miller, Amway and several other local companies.
"Between GRCC and GVSU, there are over 2,400 Latino students who don't have any connection to local business groups. We are trying to fill that gap."
He said his twin goals, helping Hispanic business owners and Latino students, will continue to underpin everything he does at the chamber.
"I envision West Michigan as full of successful Hispanic businesses in the next year," he said. "Also, to connect these kids to local organizations. Not everybody wants to have a business, but we have many Latino professionals who can be (working) in a business.
"I think that's important with diversity and inclusion here."