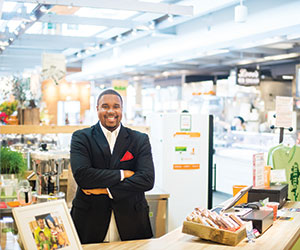 Jermale Eddie found his calling after viewing a documentary about the benefits of detox and juice cleansing. Courtesy Jermale Eddie
Jermale Eddie said he is thankful for a hard work ethic instilled in him when he was a child.
Eddie is the owner and co-founder of the Grand Rapids-based Malamiah Juice Bar, 435 Ionia Ave. SW, which opened in 2013.
He said he wouldn't have been able to accomplish that feat without learning at a very early age the basics of business from his family.
His family grew vegetables in the backyard, and during harvest season, Eddie, his siblings and his stepmother sold their vegetables in the community and at their local farmers market in Berrien Springs.
"(My siblings and I) really didn't want to do it, especially when it was hot and our friends were doing something else," Eddie said. "Gardening was something that my stepmother enjoyed, but it wasn't our thing. The only part we liked was when we were getting paid because that was how we got our school clothes. But she wanted (the kids) to be self-sustained. She felt it was healthier and cheaper for us to grow our own food, and it showed us work ethic. So, even though we were kids working summer jobs, playing sports, going to school, we still had an obligation to help with the vegetable garden, although we didn't want to."
JERMALE EDDIE
Organization: Malamiah Juice Bar
Position: Co-founder and owner
Age: 38
Birthplace: Berrien Springs
Residence: Grand Rapids
Family: Wife, three children

Business/Community Involvement: Member of the Downtown Development Authority board
Biggest Career Break: Opening Malamiah Juice Bar
It is that same work ethic that was instilled in him at a very early age that inspired Eddie to open Malamiah Juice Bar, which sells a blend of natural vegetable and fruit juices and smoothies.
Malamiah gets its fruits and vegetables locally from New City Urban Farms, Urban Roots and Gordon Food Service.
Although he was taught the fundamentals of entrepreneurship, it wasn't a part of his original career plan. After graduating high school, Eddie went to Grand Valley State University, where he was a high jumper on the university's track and field team. During his academic journey, he said he quickly realized what career he did not want to pursue.
"The degree that I ended up graduating with was a bachelor's in elementary education," Eddie said. "At first, I wanted to become a nurse because my mother was a nurse and she wanted everyone to be a nurse — my brother and my sisters. I also wanted to do physical therapy, but then I met something called college-level chemistry, and I found out that wasn't the ship I wanted to ride on. So, I had to figure something out. I realized that I would like to influence children, especially black children, so, I chose that route."
Following his graduation in 2003, he was hired at Calvin College as the program coordinator of the Tapestry Leadership Program in the Multicultural Affairs Office. He was charged with encouraging international students of color, especially those who were the first in their families to attend college, to continue through school until they've graduated. Eddie said he felt, at the time, it was the right position for him because as a recent college graduate, he could relate to the students. He stayed in the position for four years.
In 2006, he got married and started a new position as the assistant director of the Office of Multicultural Affairs at GVSU. His job duties were similar to those at Calvin.
Eddie, who also has a Master of Arts in family studies from Spring Arbor University, said he always wanted to work at GVSU since graduating from the school. However, after being at the university for less than a year and buying a house in February 2008, Eddie and his wife decided they wanted to move to Texas to help a friend start a church.
After buying the house, the 2008 recession hit, and the housing market crashed. As a result, Eddie and his wife had a difficult time selling their home in West Michigan before they left for Texas. With little money to spare, Eddie sold his car, rented his home and drove with his wife to Texas.
Once they got to Texas, Eddie said they encountered another dilemma: They didn't have a home to live in. They were forced to move into an extended-stay hotel, where they lived for three months.
"We essentially left our $82,000 household income behind for a guaranteed $26,000," he said. "That was guaranteed, and that was it. After arriving there, my wife got a job at a sister organization of the Children's Defense Fund, and I had my little job at the church."
Eddie worked part time in the youth ministries department, and he also oversaw the administrative duties and worked on the church plan, which included figuring out the number of phone lines needed, finding out who to hire for the lawn maintenance and occasionally preaching.
He eventually found another job as a substitute teacher in the Port Arthur Independent School District in Texas. But Eddie still had a zeal for higher education, and after praying for a position at Lamar University in Texas, he got a position as the assistant director of the Setzer Student Center, where he helped to plan student activities.
He continued to work at the church while working at the school. During that time, Eddie and his wife had a son. As their family grew, he and his wife felt the need to move back to West Michigan to be closer to family.
Before moving, Eddie said he started looking for jobs, and after filling out over 120 job applications, he still was unsuccessful in finding a job in West Michigan.
Nevertheless, he moved his family back at the same time the tenant who was living in his home relocated for another job.
Still, Eddie was without a job for a few months.
"I applied for unemployment," he said. "I received a letter saying I wasn't qualified. That was one of the most embarrassing, I can say humbling now, things I had to go through to go and apply for it. I was embarrassed about that, though I knew it shouldn't have been that way. If it is a need that you have, it is just something that is set up to help you, but I didn't feel that way. I was kind of prideful, but I knew I had to put down that pride. But then to find out I couldn't get anything, I was pretty heated at that point. I couldn't get jobs because I was overqualified for those jobs. I didn't care, I just needed to provide for my family."
After several months, Eddie said he finally got a job at the University of Phoenix as an enrollment adviser. Although it wasn't a traditional job in higher education, he said he was grateful for it.
It was there Eddie's career path took a turn. He was introduced to a documentary called "Fat, Sick and Nearly Dead," which is about the health benefits of detox and juice cleansing. He started juicing different fruit and vegetable combinations with the Breville Juice Fountain juicer that was used in the documentary and realized people liked it.
Eddie said he and his wife felt compelled to open a juice bar, although they didn't have any money or collateral to open a business. So, he said he started working with individuals at the Michigan Small Business Development Center on GVSU's Grand Rapids campus.
At first, he thought about starting his business out of a juice truck, but as fate would have it, he started speaking with a woman who was in charge of new vendors at the Downtown Market. She told him to put together a business proposal, which he did, but Eddie still didn't have the funds to open the juice bar.
"People who said they would support us financially, somehow, their pockets were closed when it came down to it," he said. "Then we went to banks, we had no money, we had overdraft fees in our accounts. We were trying to live off a credit card, our house wasn't worth anything. So, we couldn't take anything from that. We didn't have anything to sell or any retirement funds we could use. So, banks were like 'no, no, no, no' but then finally Chemical Bank said 'yes.'"
Five years later, Eddie said he hopes to expand his business to places like airports.
"We're thinking about, 'How do we get more juice, more smoothies in the hands and bodies of more people?'" he said. "We see the potential in having our juice being distributed to other stores and not just at one location."