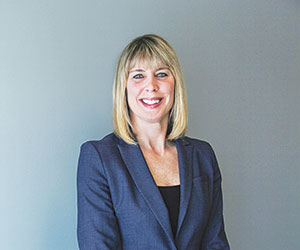 Emily Bridson admitted she used to take her father's advice "with a grain of salt" but now believes he gives great advice. Courtesy Emily Bridson
Emily Bridson, 1st Ward Kentwood city commissioner, came into the public sector in November 2017 and shortly made a name for herself as a disruptor.
"I think it's very important to follow the wishes of constituents and also think more broadly and have a long-term strategy of how that impacts the city, and our neighborhoods and community," she said.
Bridson has prior municipal experience to her current commission role. She served on both the Kentwood Planning Commission and the Parks and Recreation Commission from 2015-17.
Coming from a family with many diverse viewpoints, Bridson learned how to challenge the status quo.
"In my family, we had all different kinds of views … some were liberal and some were more conservative, so at holidays, it was always an interesting time," she said.
Growing up in a family environment that allowed her to exercise her own views inspired Bridson to be the advocate for the people she is today, she said, most recently advocating for the legalization of recreational marijuana and the establishment of marijuana facilities in Kentwood.
Michigan voted in favor of Proposal 1 — to legalize marijuana for recreational use — in November, and Bridson said 56 percent of Kentwood residents also voted in favor of it.
EMILY BRIDSON
Organization: Padnos, City of Kentwood
Position: Operations manager, commissioner
Age: 46
Birthplace: Lansing
Residence: Kentwood
Family: Single

Business/Community Involvement: Kentwood City Commissioner, Humane Society of West Michigan Board of Directors, [Has Heart] volunteer
Biggest Career Break: "Landing my dream job with Padnos working in operations. When I decided to continue my education and I went back to business school, I fell in love with manufacturing and process improvement. As operations manager, each day I have the opportunity to oversee programs and processes designed to recycle materials, which in turn reduce our landfill and ultimately safeguard our neighborhoods, waterways and planet."
Regardless of the collective's voice, the Kentwood City Commission voted in favor of an amendment to the city code to prohibit marijuana establishments in the city as the term is defined in the recently approved Michigan Regulation and Taxation of Marihuana Act, according to an earlier Business Journal report. Bridson was the only commissioner to say "no" to the amendment.
Before Proposal 1 was passed, Bridson said she would go to numerous public hearings and listen to residents who were both for and against the proposal to educate herself on the issue.
"I talked to my dad and I said, 'What do you think I should do? What's your opinion?' I know most commissioners in Kentwood won't be voting for that to be available in our city," she said. "But here are the reasons why I'm going to vote for it."
Bridson told her father, Brian Bridson, she supported legalization because it passed with a very broad margin, and the city commission needed to respect the voters' opinions.
Legalization also is a social justice issue for Bridson. She cited Dr. Carl Hart's book, "High Price," saying people of color have historically been disenfranchised by U.S. drug laws.
"Figuring out how to change our laws so people aren't penalized to this day in that regard is really important to me," she said.
Her dad agreed and said he thought she was doing the right thing, even though it was the difficult thing to do. Bridson admitted she didn't always heed her father's advice.
"Earlier, when I was growing up … I took his opinion with a grain of salt, but now as I've gotten older, I realized he's pretty spot on, and he's given me very good advice," she said.
As a local leader, it can be hard to be that one representative who stands out even when the world is all about unanimous, Bridson said, but ultimately, it's her job as an elected official to represent the interests of the public.
"That's why you're elected — and that's why you take that stance and put your name out there — is to do what we're supposed to do," Bridson said.
Prior to her stance on marijuana, Bridson also stood out by being the only commissioner to oppose a proposal to allow Bethany Christian Services to expand housing for children of undocumented immigrants who had been separated from their parents at the U.S.-Mexico Border.
"Bethany Christian Services has government contracts to house kids that are removed from their parents at the border; for me, that's a moral issue — to house them in Michigan, separate them from their parents," Bridson said.
Bridson argued many Kentwood residents would agree with her because Kentwood has a large percentage of new Americans, refugees and foreign students who collectively speak over 60 languages.
"It's really everyone from everywhere," Bridson said. "We have a newcomer school at one of our schools that teaches kids how to assimilate when they don't really know any English. We have parent courses, too."
As 1st Ward city commissioner, Bridson represents about half of the 54,000 residents in Kentwood.
In the private sector, Bridson also serves as an advocate, but for environmental sustainability. Not long after being elected to the Kentwood City Commission, she accepted a job as operations manager for Padnos, a manufacturer of recycled metals, plastics, paper and electronics in Holland, where part of her responsibility is figuring out how to upcycle the materials the company receives.
"I've been an environmentalist for a very long time, which started way back when I was a kid, digging through trash to pick out any recyclable I could before recycling was a thing," she said.
As an example of upcycling, Padnos is working with a Grand Rapids apparel company called Public Thread, which will take old materials like seatbelts or other fabrics removed from cars and use it for its own production.
Since China implemented National Sword, a policy banning imports of certain types of waste into the county, in January of this year, Padnos has been working to maximize its operations and increase the value of the raw materials it buys.
According to the Michigan Department of Environmental Quality, about 30 percent of all recyclables collected in the U.S. are exported outside the country, and before National Sword, about 69 percent of all U.S. plastics exports were being sent to China and Hong Kong.
"How can we (Padnos) look at efficiencies from an operations perspective? How can get rid of waste? How can we make things flow through the plant more? How can we reduce waste from coming in and going out? So, it's a pretty comprehensive approach to manufacturing," Bridson said.