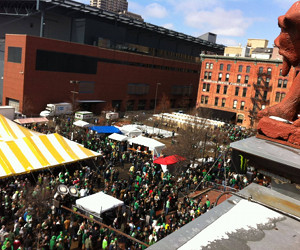 The annual Irish on Ionia street party in downtown Grand Rapids draws about 20,000 people. Photo via fb.com
A local restaurant and bar group is hosting its St. Patrick's Day celebration tomorrow.
Grand Rapids-based BarFly Ventures will host the seventh-annual Irish on Ionia street party from 7 a.m. to 10 p.m. in downtown Grand Rapids.
The event's tickets range from $20 for general admission to $60 for Very Irish Person, or VIP, tickets.
The VIP tickets include re-entry all day with a VIP lanyard, a T-shirt, a 22-ounce beer mug and drinking gloves.
The $60 package also includes 22-ounce beers all day for the price of 12 ounces. The ticket also donates $1 to the Boys & Girls Club of Grand Rapids for Camp O'Malley.
Irish on Ionia includes multiple drink tents and two stages on Ionia Avenue SW, between Fulton and Oakes.
Music starts at 10:15 a.m. and runs until the event is finished, with acts such as bagpipers, DJ Adrian Butler, The Waxies, Stone Clover and more.