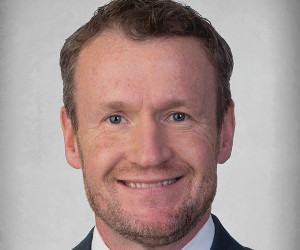 Richard Hillary. Courtesy Miller Johnson
A local law firm has established a new practice.
Grand Rapids-based Miller Johnson started a practice dedicated to mental health law, according to the firm last month.
The practice has nine attorneys who have been with the firm between two to 28 years.
The attorneys have experience in a variety of other practices at the firm: health care providers; health care professional licensing, regulatory compliance and accreditation; employment health care; elder law; private client; criminal; fraud and embezzlement; and privacy and cybersecurity.
They are working with licensed professionals and mental and behavioral health providers with an emphasis on obligations under the Michigan's Mental Health Code.
Member Richard Hillary is the practice's chair, and member Neil Marchand is vice chair of the practice.
"Our attorneys fully understand the complex legal and ethical framework imposed on mental health providers and the tension between the Mental Health Code and other areas of the law," Hillary said. "We aim to be a trusted resource to providers in complying with regulations as they serve and treat their clients."
Miller Johnson also has an office in Kalamazoo.