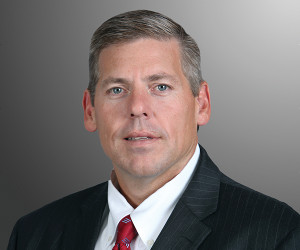 Michael Homier. Courtesy Foster Swift Collins & Smith
A law firm's new executive committee is focused on maintaining its growth trend.
Foster Swift Collins & Smith said last month that it has elected its 2014 executive committee: President Michael Sanders, Vice President for Lansing James Jensen, Vice President for Southeast Michigan Bruce Vande Vusse, Vice President for West Michigan Michael Homier, Treasurer Benjamin Price and Secretary Brent Titus.
Markets
Homier, who is now in his fifth year on the executive committee, said growth will remain a key focus in 2014.
The firm will continue to focus on its West Michigan growth — both at its Grand Rapids and Holland offices — as well as considering opportunities in Traverse City and St. Joseph. The statewide firm also operates offices in Lansing, Detroit and Farmington Hills. 
Since 2009, the firm has seen its Grand Rapids office expand from nine attorneys to 21, and its Holland office is home base for five of the firm's attorneys.
Overall, Homier said the firm's move into the West Michigan market has been hugely successful. 
He credits the firm's commitment to community involvement as a main piece of that success. The firm has been involved with the Grand Rapids Bar Association, the Managing Partners Diversity Collaborative, Grand Rapids Marathon, Gazelle Girl Marathon, March of Dimes and other community-focused organizations.
Homier added that the firm will continue to seek out small and mid-size clients as it grows.
Office space
Foster Swift's Grand Rapids office is at 1700 E. Beltline Ave. NE, and Homier said the building has been able to accommodate its growth so far.
"We took over the entire top floor of the building we are in and just expanded into half of the ground floor — we just added 10 additional offices — so we continue to see expansion that way," Homier said.
Connectivity
The growth also means that the Grand Rapids office can now provide clients with a full-service experience.
"We are at a critical mass now where we can provide that full service from this office directly, even though we may still rely on somebody with a particular expertise in one of our other offices," Homier said. "We do it seamlessly, so that it doesn't cost the client any more money. The technology that we employ these days means that we have video conferencing with other offices on a continuous basis, and it works really well."
Succession
The firm has also been preparing for its future in terms of succession planning.
"We've been pretty successful in our succession planning and getting new, younger lawyers involved with those clients that have been served by some of our senior lawyers for 20, 30 years or more, so we've transitioned that pretty well and expect to continue with that," Homier said.
In fact, Homier noted that the younger attorneys have tipped the scales, so that approximately 50 percent of the Grand Rapids office is made up of the under-40 set.