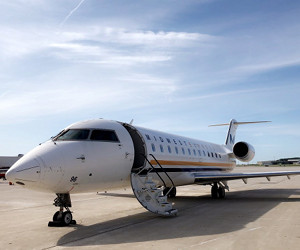 A Midwest Express jet. Courtesy Gerald R. Ford International Airport
The airline that said it would begin nonstop flights from the Gerald R. Ford International Airport to Milwaukee has hit a roadblock in its plans.
Milwaukee-based airline Midwest Express said a start date has not been set for the service. In August, Midwest said it would start by the end of 2019.
The change in plans comes because of its ended partnership with Elite Airways. Midwest Express has filed a lawsuit against Elite because "Elite breached its agreement with Midwest Express," Midwest said. Midwest and Elite had partnered to launch flying operations for Midwest while Midwest pursues its own airline operating certificate and aircraft.
Although Midwest is "discontinuing its partnership with Elite Airways," Midwest president Greg Aretakis said the airline's plan continues to move forward.
"We are in substantial discussions with other airline operators to bring back nonstop service to Milwaukee," Aretakis said in a statement. "We have received a tremendous amount of support from the business community and former passengers who tell us that they need better options for air travel in Milwaukee; and we intend to deliver it."
Midwest Express is continuing fundraising efforts.
Midwest declined to comment further, citing the ongoing legal issue.