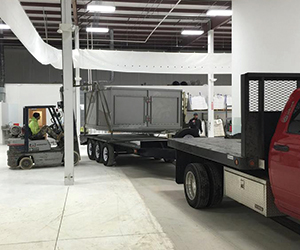 Pilot Malt House is still setting up its new facility. Here, an industrial kiln used in the production process is being delivered. All equipment is designed specifically for the malting operation. Courtesy Pilot Malt House
When Erik May started searching in 2012 for farmers to grow grain for his malting startup, Pilot Malt House, he struggled to find interested parties.
This year, he'll have 200 to 250 acres of barley and wheat grown specifically for his malting purposes, up from 85 acres in 2014.
Malt is germinated cereal grains that have been dried, allowing for creation of sugar needed to make alcohol in beverages such as beer and whiskey.
"Our biggest challenge is the supply chain," said May, the company's owner and president. "That first year was like pulling teeth for 10 acres. Now it's morphed into us receiving several calls a week from farmers.
"They get excited about being a part of the brewing industry."
Pilot Malt House strives to be 100 percent Michigan grown; however, as demand increases, May concedes he might have to source the major barley-growing regions of North Dakota and Minnesota until farmers in Michigan can support the company.
Malting is done onsite and led by Ryan Hamilton, lead maltster.
The supply is thinned out because of stringent quality standards to ensure the final product is of high quality. May said those high standards resulted in Pilot Malt House only accepting approximately half of the contracted grain grown for the company last year.
Demand is indeed increasing as breweries from across the globe are calling Pilot Malt House for malt. Right now, the company is providing 30 customers with malt, with orders ranging from 150 pounds of malted grain to more than six tons for New Holland Brewing Co.
As Pilot's product has gained a solid reputation within the brewing and distilling industries, May said he's received calls from between 300 and 400 potential customers, including breweries from all over Michigan and as far away as Mexico and England.
"We're strapped in a good way by New Holland," May said. "But in the future, volume is going to be our friend, and we need to take on more customers."
Pilot Malt House recently relocated from Jenison to a facility in Byron Center just off U.S. 131, allowing for a significant increase in production capabilities. The new location was by design, May said, because he wanted to locate on the south side of Grand Rapids between agricultural land and the city.
"We found this location and it was way too perfect of a spot," he said. "We heard about the spot through a commercial real estate agent and made a lowball offer, and it came together nicely."
The deal was completed in October, but the company is still moving in production equipment. May said the entire project will end up at approximately $500,000, with the money coming from several equity investors and a larger business loan.
Much of the money and effort are spent on equipment. May said the malting industry is unique in that a company can't just buy used equipment from another operation or contact a malting equipment company. Unlike the brewing industry, which can buy its equipment ready made from several companies across the globe, May said, his equipment must be fabricated to fit the space.
"It's terrifying," he said. "But we'll have it all together in a year or two, and the loan will allow us to expedite the growth."
The new facility will allow Pilot Malt House to significantly increase its output. At the previous location in Jenison, Pilot Malt House could malt and package roughly 500 pounds in a busy week. Once finished, the new facility will allow the company to complete about seven tons a week.
The added space also will allow Pilot Malt House to increase its varieties from four types of malted grains to more than a dozen, possibly including organic and gluten-free types.
"We're laying the groundwork for the future," May said. "If we didn't, we'd regret not focusing on the long term."