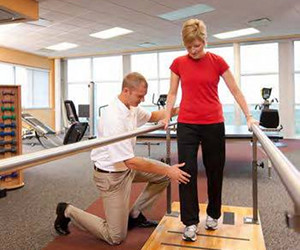 Agility Health in Grand Rapids is a provider of physical rehabilitation services and software. Photo via fb.com
A rehab company has expanded its service relationship with Ford Motor Company by establishing a new on-site clinic at one of the automaker's plants.
Agility Health in Grand Rapids, a provider of physical rehabilitation services and software, said last week that it has added a clinic at Ford's Chicago assembly plant, at 12600 S. Torrence Ave.
The clinic complements Agility Health clinics at other Ford sites.
On-site clinic
Through Agility Health's Industrial Rehab Division, its occupational rehabilitation team will work with Ford to develop customized programs, provide on-site training and physical therapy treatments.
The industrial work site program also incorporates ergonomic assessment, job-demands analysis, pre-placement screenings and functional capacity evaluations.
Impact
Steve Davidson, CEO of Agility Health, said that on-site physical rehabilitation, fitness, ergonomic training and wellness have been "proven to benefit workers and their employers."
"We are thrilled to expand our relationship with the Ford Motor Company," Davidson said.
Davidson added that Agility Health's corporate clients experience several workforce benefits: lower work-related injuries, faster recovery from injuries, lower absenteeism and improved overall health of employees.
Agility Health
Agility Health manages a network of 74 outpatient or on-site rehabilitation locations in 17 states.
The company also provides rehabilitative services to 42 hospitals and inpatient rehabilitation units, 35 nursing homes, long-term care facilities and other service locations in nine states.