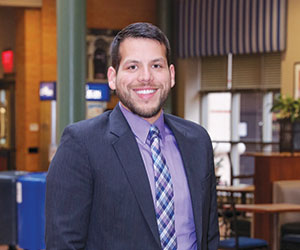 Jesse Bernal hopes Grand Valley will become a nationwide model for equity and inclusion in higher education and public institutions. Photo by Michael Buck
A local Hispanic group will honor several leaders at an awards gala this week.
The Committee to Honor César E. Chávez is hosting the 14th-annual César E. Chávez Hispanic Excellence Scholarship and Community Awards Gala this Thursday at 5:30 p.m. at Noto's Old World Italian Dining in Cascade Township, at 6600 28th St. SE.
Tickets are $100 per person and support the Lupe Ramos-Montigny Legacy Endowed Scholarship at Grand Valley State University.
César E. Chávez community awards
Youth Award: Juan Paulo Palacios, GVSU engineering major
Golden Citizen Award: Rick Muñiz, principal, San Juan Diego Academy
Hispanic Advocate Award: Wendy VerHage Falb, executive director, Literacy Center of West Michigan
La Familia Award: Gema Lowe, workers' center organizer, Interfaith Worker Justice
Aguila Award: Jesse Bernal, VP of inclusion and equity, GVSU; and Elizabeth Reyes-Rosario, attorney, Grand Rapids Law Group
The Committee to Honor César E. Chávez
The committee works to increase awareness and educational opportunities in the Latino community.
The collaborative includes representation from numerous organizations: Aquinas College, Central Michigan University, Davenport University, Ferris State University, Grand Rapids Community College, Grand Rapids Public Museum, Grand Rapids Public Schools and Grand Valley State University.