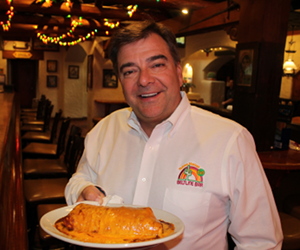 Jeff Lobdell, the owner of Restaurant Partners, shows off a wet burrito from Beltline Bar. Courtesy Restaurant Partners
A 65-year-old restaurant in Grand Rapids has again earned national buzz for its wet burritos.
Food & Wine magazine posted Monday a ranking of the "Best Burritos in the U.S.," and Beltline Bar is featured in the 17-spot list for its signature wet burrito.
Jeff Lobdell, who has owned Beltline Bar for 17 years, said he learned about the honor from a fellow board member with the National Restaurant Association, who sent him a link. Similar emails poured in all day Monday.
Food & Wine magazine also posted a ranking of the "Best Burritos in All 50 States" on April 27, and Beltline Bar is ranked as having the best wet burrito in Michigan. 
"Lo and behold, (10 days) later, we were ranked among the best 17 in the nation," Lobdell said. "There were several from California in the top 17 and several from New York and the Southwest, but we were the only one from the Midwest."
Lobdell said it is "a great honor" to be featured in the roundup.
"We've sold close to 5.3-million burritos, and we were recently featured on Travel Channel's 'Man v. Food' show," he said.
"We're elated and think it bodes well for the growing travel and tourism industry in Grand Rapids and everyone in the community to get this kind of recognition."
Beltline Bar is part of Grand Rapids-based Restaurant Partners, which is owned by Lobdell.