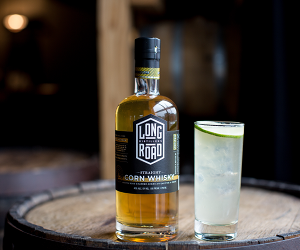 Courtesy Long Road Distillers
A Grand Rapids distillery is rolling out a new whiskey.
Long Road Distillers said it will release its Straight Corn Whisky for statewide distribution later this month.
The distillery's new offering has been aged in second-use, charred American Oak barrels for over two years.
It will be bottled at 80 proof, or 40 percent ABV.
"As we explored the variety of American whiskey types, we realized that the style of aged corn whiskey has been largely overlooked by the craft distilling community," said Kyle VanStrien, co-owner and co-founder, Long Road Distillers.
"Aged corn whiskey made well is a light, flavorful and extremely approachable style of whiskey that is great for mixing in your favorite cocktails or sipping on its own."
By definition, straight corn whiskey must contain at least 81 percent corn in its mash bill, according to Long Road.
Long Road Straight Corn Whisky's mash bill consists of corn and wheat from Heffron Farms in Belding, along with barley grown and malted in Michigan.
"As consumers continue to explore craft whiskey, we know there are often reservations about the price point of younger whiskey from small producers," said Jon O'Connor, co-owner and co-founder, Long Road Distillers. "This whiskey can be a great jumping-off point for retail customers interested in trying craft whiskey for the first time, as well as a great tool for bars and restaurants looking to incorporate a Michigan-made whiskey into their cocktail program or their customers' favorite mixed drink."  
The release follows Long Road's announcement that is has partnered with Kalamazoo-based Imperial Beverage to help reach its goal of statewide distribution.