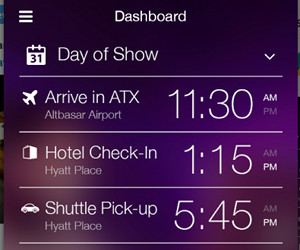 Booksmart Touring is a mobile and web app to manage concert tour logistics. Photo via fb.com
A startup is helping musicians and their teams manage concert tours on the road.
Start Garden, the $15-million early stage venture fund in Grand Rapids, said last week that it will make an initial $5,000 investment in Booksmart Touring, a mobile-web app for music managers and artists to concert tour logistics.
Booksmart Touring
Booksmart Touring is a management app that allows artists, tour managers, promoters and agents to organize various concert tour details.
The app automatically updates information the artist or manager inputs to team members based on the level of access granted.
Booksmart Touring also has several other features: scheduling; hotel, flight and ground transportation information; set times; gear needed at concert venues; and document uploading.
Ben Melman, founder of Booksmart Touring, said the idea is to release a platform for artists to route the most efficient tours possible.
"We focus on the most-efficient user experience, while utilizing a beautiful and easy-to-use interface," Melman said.
With an initial target market of tour managers, Melman said the team is confident they're the segment of the market willing to adapt and have the best relationships with the artists.
The free app is built for iOS smartphones. Users can also access the platform via web browsers.
The team is working on developing Android and tablet versions of the app.
Next steps
Booksmart Touring will use the Start Garden funds toward validating a need in the marketplace for the app and attending two major music conferences to network with industry professionals.
"We can use these connections to validate what we are working on and work on relationships for the future with potential customers, advisors and investors," Melman said.