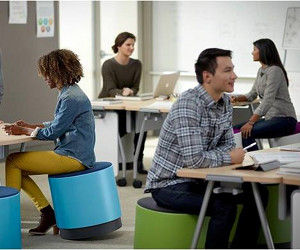 Turnstone is Steelcase's small business brand. Photo via fb.com
Steelcase's small business brand, turnstone, has found America's "Best Young Companies to Work For."
This summer, turnstone partnered with Wharton management professor and human resources expert Peter Cappelli to search for a national group of nominees.
A panel of judges selected 15 companies out of the more than 100 nominees.
To be considered, companies had to be nominated by someone from outside of the organization, had to be no more than 10 years old and could not employ more than 100 people.
Companies were selected based on four criteria: business goals/societal impact, outstanding leadership, positive culture/workspace design and success potential.
"An intentionally designed workspace can bring people together to foster collaboration, attract and retain top talent, build a brand and culture and, ultimately, promote growth," said Kevin Kuske, general manager and chief anthropologist for turnstone. "These 15 companies have created environments which embrace the company's personality, by vividly representing their culture, fostering a tight community and exuding fun. We're thrilled to honor these 15 'Best Young Companies to Work For.'"
2013 Best Young Companies to Work For
Chalkfly, Detroit: an ecommerce office and school supply company that gives 5 percent of all sales directly back to teachers
Cloudability, Portland, Ore.: a cloud cost analytics company that lets users monitor, manage and communicate cloud spending
Fanology, Los Angeles: through the power of storytelling, the company is dedicated to building the social media influence of celebrities and brands and cultivating meaningful relationships with fans and consumers that drive real world, tangible results
Greatist, New York: a fitness, health and happiness Internet media startup
Groove Commerce, Baltimore: a creative digital agency with a focus on ecommerce, web design, inbound marketing and branding
Hoopla.io, Kansas City, Kan.: formerly called Local Ruckus, an event marketing platform and syndication network powering local-event discovery
Nexus IT, Overland Park, Kan.: an IT staffing agency
Parking Panda, Baltimore: an OpenTable + ITA for the parking industry, allowing consumers to find, reserve and pay for parking from their computer or mobile phone
Privy, Boston: an online platform that helps local business marketers acquire customers and harness customer data to make retention marketing more relevant and effective
SocialRadar, Washington, D.C.: mobile applications that give you real-time information about the people around you
SpareFoot, Austin, Texas: online marketplace for self-storage, making it easy to find, compare and book the best storage space in one simple place
Sparkhouse, Costa Mesa, Calif.: a video production and marketing studio
Sproutsocial, Chicago, Ill.: a social media management platform that provides businesses with three key social media capabilities: engagement, publishing and analytics
Sputnik Creative, Austin, Texas: a full service digital and branding studio
Thanx Media, Glen Ellyn, Ill.: an enterprise technology company delivering fully integrated, web-based ecommerce solutions
Source: Steelcase turnstone