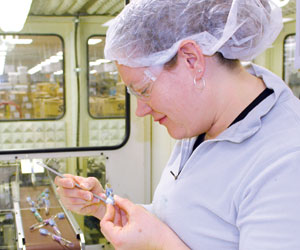 Brooke Van Rhee inspects toothbrush bristles at the Ranir Plant in Kentwood. Photo by Pete Daly
"Nobody knows we're here," joked Christine Henisee, CEO of Ranir LLC on East Paris Avenue south of 44th Street in Kentwood.
That's because Ranir, one of the major contenders in the U.S. consumer oral-care products industry, keeps a low profile. But Henisee quickly clarified her statement, adding that some key people and organizations are, in fact, very much aware of Ranir.
"The Right Place knows we're here," she said. When she took over at Ranir in late 2002, she soon received a call from Birgit Klohs, the president and CEO of Right Place who makes it her business to be acquainted with West Michigan companies that seem to have a lot of growth potential.
Mike Jandernoa, widely known throughout investor and business circles in Michigan, also called Henisee to welcome her to the West Michigan business community.
One reason Ranir isn't a household word is because nearly all of its production is sold under contract to major retailers in 40 countries around the world. In the U.S., that includes the likes of CVS, Rite Aid, Walgreens and Meijer, which sell many products Ranir makes for them under their store brands.
Ranir is a global manufacturer of private-label oral and personal care consumer products, including power and manual toothbrushes, teeth whiteners, dental floss and flossers, interdental devices, travel accessories and more.
Henisee estimates that close to 70 percent of all dental floss sold in the U.S. is made at Ranir in Kentwood. The annual output would reach the moon and back "six times," she said.
Ranir is focused on oral care technology and product development. It owns, manufactures and markets the Plackers and Snore Guard brands, among others. Last year it expanded into a totally new product line: cold sore treatment, and Abridge is its brand.
In addition to the main plant in Kentwood, Ranir has two smaller plants abroad — one in China and one in India — for supplying retail customers in Europe, Africa and Australia. There are more than 750 Ranir employees around the world, but most of Ranir's employees — about 550 — work at the 150,000-square-foot Kentwood plant and adjacent 100,000-square-foot storage facility.
According to records at the Michigan Department of Licensing and Regulatory Affairs, Ranir was founded in 1979 by Dr. William K. Najjar, a native of Lebanon who moved to Grand Rapids after graduating from the University of Michigan dental school. Najjar passed away in Hawaii in 2001. His obituary in the Honolulu Star Bulletin described him as a "dentist from Grand Rapids, Michigan" and "an inventor of preventive dental care products."
In the late 1990s, Ranir was bought by a private equity firm but then didn't seem to be going anywhere. Finally, the new owners hired Henisee, an experienced consumer products executive from the East Coast. She said Ranir's leaders wanted her to find another company to merge with, "but I advised against that," she said, because she believed it had real potential to grow by itself. Ranir was only making toothbrushes and dental floss, so there were many other potential product lines, she said, and it had established good relations with its customers. Another plus: Only about half of the plant was being used.
"We have increased the size of this company seven times since 2003," she said.
Other key executives include Joseph Townshend, CFO and chief administrative officer.
Ranir cannot be described simply as a plastics injection molding company, although that has long been the core of its manufacturing process. With its tooth-whitening formulas, the new cold sore treatment and production of electronic toothbrushes, it is now much more. "We are a Class 1 medical device facility, regulated by the FDA," said Henisee.
Ranir manufactures oral care and personal health care products under contract for Proctor & Gamble and other major companies she was not at liberty to name. She said Ranir directly supplies all but one of the 12 largest consumer retail chains in the U.S. "Meijer is in our top 12 customers," said Henisee. "We have a solid relationship with them."
Now the executive team is working on deciding what other types of products it might make and is looking for new geographic markets around the world.
"Brazil looks to be attractive," she said, noting that the BRIC countries are becoming more promising to the retail consumer products industries.
Where major retail chains are growing is where Ranir can grow, she said.
Henisee said a successful supplier to a major store brand must do four things well: It must maintain quality production; deliver excellent customer service at least 99 percent of the time; innovate and introduce new products; and keep costs down.
In October, Ranir hired Stephen Thong as vice president of global technology and development. He has held management roles at Church & Dwight Co. and Gillette and was involved with hundreds of new product launches for major brands such as Gillette, Arm & Hammer and Orajel. Adding Thong was "part of our strategic plan to continue to lead as a major international player in oral and personal care products," said Henisee.
Ranir's business did not suffer like other types of manufacturing during the Recession. Henisee said that was because its products are mainly considered necessities, and during the economic downturn, cash-strapped consumers stopped buying more expensive national brands, opting for store brands — the mainstay of Ranir's business.
Ranir changed hands again in 2008. The two principal leaders in the new ownership group, which includes Henisee, are Richard P. Kiphart, an investment banker in Chicago, and David L. Warnock, an East Grand Rapids native who now lives on the East Coast and is an owner and co-founder of the Camden Partners private equity firm in Baltimore.
Warnock has kept his ties to Michigan. He told the Business Journal he "was very happy to have made an investment in my hometown." He believes Michigan is getting its health care costs under control and, with its recovering economy, "is going to be a good place to do business for a long time," he said.
"Ranir is a wonderful company and Christine is one of the best CEOs I've ever worked with. I'm very proud that we've been able to build a manufacturing company that employs several hundred people in Grand Rapids, Michigan — particularly at a time when it hasn't been so good for manufacturing," he said.
"It basically goes to show that if you can manufacture toothbrushes and dental floss in Grand Rapids, Michigan, you don't need to manufacture that in China. You can manufacture a lot of stuff in the U.S."