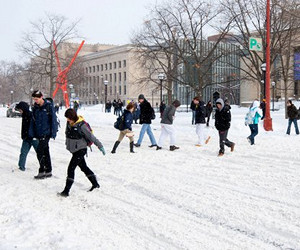 University of Michigan, the state's largest research institution, reported a record-setting year for innovation, which the university has commercialized through licensing and startup ventures. Photo via Facebook
ANN ARBOR — University of Michigan technology faculty and researchers have a lot to celebrate at their 12th annual Celebrate Invention reception today.
The university saw a total of 368 new inventions recorded this fiscal year. U-M's Tech Transfer also reported 123 commercial licenses and options — 22 more than they saw last year. All around, it was a record-setting year for the biggest research institution in the state.
Most of the licenses were for out-of-state companies, said Mark Maynard, marketing manager at U-M Tech Transfer. However, 11 new startup ventures, eight of which are headquartered in Michigan, were launched this fiscal year with the guidance and resources of Tech Transfer's Venture Center, a startup-opportunities hub for entrepreneurs.
"It's contributing to the state," Maynard said. "It's job creation."
In the last decade, U-M's Venture Center launched 98 companies, an average of one every five weeks. This year alone, 101 U.S patents were issued, and a total of $13.4 million in licensing royalties was received, the university reported.
Ken Nisbet, executive director of U-M's Tech Transfer, said the Venture Center, along with a talented staff and excellent funding, contributed to the successful year.
"It helps to have $1.27 billion of research," Nisbet said. "Besides that, there are world-class researchers here. That's core to have that nice pipeline of high quality. What we put together is a really good team of licensing specialists." 
The market has been challenging, Nisbet said. Storm clouds are on the horizon for the federal dollars that fund the lifeblood of the research, he said, and, down the road, that may create issues.
"There's a lot of ecosystems that affect how well we can get technology out, but it has been encouraging," he said. "We've seen a nice uptick. It's very hopeful, but it's a lot of work."