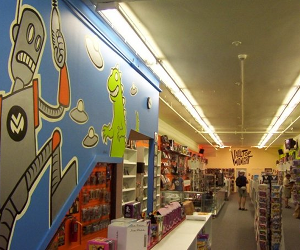 Vault of Midnight's Ann Arbor comic book store opened in 1996. Photo via fb.com
Superman, Batman, Spider-Man and all the rest of the characters from the vibrant world of comics have found a new city of adventure — Grand Rapids.
Vault of Midnight, an Ann Arbor-based comic book and game shop, is making its first company expansion into the space at 95 Monroe Center.
The downtown location that formerly housed Van Hoecks Shoes will be renovated and split into two suites, said Curtis Sullivan, Vault of Midnight co-owner.
About 2,500 square feet will be for his comic store, he said, and about 2,000 square feet will be available for other retail.
A representative of First Companies confirmed that a bakery was in the final stages of negotiations for the second space, but could not comment further until the deal is finalized.
Sullivan plans to make his comic store a downtown destination for art lovers, comic fans and game enthusiasts.
He also plans to have two managers and is looking to hire about four employees.
Sullivan hopes to have the business open the first week of September, with initial store hours running from 10 a.m. to 10 p.m., Monday through Saturday, and 11 a.m. to 10 p.m. on Sunday.
"Kept coming back to Grand Rapids"
Grand Rapids, with downtown staples like ArtPrize, DeVos Place and Rosa Parks Circle, is a ripe environment for a walk-in comic store, Sullivan said.
"It's still got those same notes of pop art that comics have always done, but there's a million styles happening in comics," he said. "Comics in general are more appealing than ever to a culture or age groups that are receptive to that kind of stuff — fine art and low brow."
During the expansion research, his team witnessed strong downtown urban renewal in Grand Rapids, he said.
"We've done a lot of research, combing over Michigan for two years to decide where to make a second home, and we kept coming back to Grand Rapids. It's got that mix of art culture and the revival downtown," he said. "We've been very lucky to get this spot right in the heart of downtown."
"Vibe"
Part of what makes Vault of Midnight work is the "vibe" of the place, Sullivan said.
His Ann Arbor store, which opened in 1996, is seen as a colorful and family friendly event destination, which carries comics and games not available in average retail stores, he said.
The business hosts gaming events, signings and satellite events, all of which will be part of the plan in the Grand Rapids expansion.
"We've been very successful in our current town," he said. "It was initially perceived as an odd choice to people in our industry and local folks — a comic store nestled between retail and finer dining — but it worked."