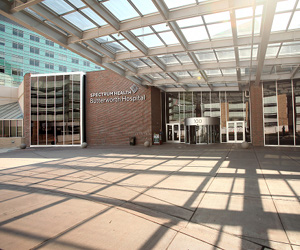 Spectrum Health Butterworth Hospital was founded in 1873 and is part of the Spectrum Health Medical Center in downtown Grand Rapids. Courtesy Spectrum Health
Several West Michigan hospitals are considered to be among the "best" in the country by an industry watchdog.
Healthgrades named Spectrum Health Butterworth Hospital in Grand Rapids, Spectrum Health Blodgett Hospital in East Grand Rapids and Holland Hospital to its 2017 ranking of "America's 50 Best Hospitals."
Wyoming-based Metro Health, a part of University of Michigan Health, is also honored as one of "America's 100 Best Hospitals" for 2017.
Healthgrades rates hospitals based "solely on clinical quality outcomes" and explicitly rewards excellence over multiple years. It is the third-straight year Butterworth and Blodgett have received the designation, which places them in the top one percent of more than 4,500 hospitals nationwide.
"These Healthgrades honors are very important, because they reflect the focused quality effort at Spectrum Health," said J. Michael Kramer, SVP and chief quality officer, Spectrum Health. "It is a significant accomplishment to be ranked so well among our national peers."
Butterworth also received the Healthgrades 2017 Distinguished Hospital Award for Clinical Excellence for the 10th straight year, one of 24 hospitals to earn the distinction for that period of time. Holland Hospital, U-M Metro Health and Blodgett also received a Distinguished Hospital Award for Clinical Excellence.
Methodology
Hospitals were graded on overall clinical excellence across a spectrum of care over the course of three years, from 2013-2015.
Hospitals honored for their excellence in the 2017 study period showed superior performance in outcomes in the Medicare population across at least 21 of the 32 most common inpatient conditions and procedures. They are measured by objective performance data: risk-adjusted mortality and in-hospital complications.
According to Healthgrades, patients treated in hospitals that have been named one of "America's 100 Best Hospitals" have a 27.1 percent lower risk of dying.